Vice President of Financial Planning - Ameriprise and Iron Birch Advisors - New York, NY
---
Click Here to Email Your Resume
Apply Via Women's Job List
Job Information:
Company: Ameriprise and Iron Birch Advisors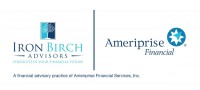 Financial Advisor
Job Description
Step into an instrumental role inside a new addition of an Ameriprise office. The Managing Partner is well known in the industry for breaking records at his previous organization. Records around recruiting, retention and production. Training advisors is paramount, and every effort is aimed toward having advisors do the best they can. The retention rate is over 76% which speaks to the quality of the program and selling to friends and family is strongly discouraged.
Help conduct the smooth operation of a fast-paced – friendly and fun – financial planning office. Work as an employee of an independent advisor franchise within Iron Birch Advisors, a financial advisory practice of Ameriprise Financial.

The Financial Advisor will work with clients to help them achieve their financial goals. Iron Birch Advisors will lead you as you hone your skills as an advisor and grow the base of clients which you service. As a Financial Advisor, you will be instrumental in creating and delivering a unique client experience that defines and differentiates the practice. This position will consistently follow high standards of business and professional ethics and legal and regulatory requirements when dealing with others and/or performing work activities.

This role provides client relationship support through managing, gathering and analyzing client data, helping prepare financial plans and other client deliverables, working with clients to resolve issues and other practice management tasks as needed, including portfolio research and client service requests.

What we offer:
• High competitive commission plus bonuses.
• No set quotas or sales requirements.
• Financial and staff support for marketing activities.
• Experience with advice driven, comprehensive financial planning for our clients.
• Mentoring and sharing of best practices.
• A team approach to providing high level quality service for our clients.
Responsibilities
Financial Planning and Advice
Identify clients to engage or re-engage in planning relationships
Prepare for client meetings focused on planning discussions and portfolio reviews
Perform case analysis and develop recommendations
Conduct and/or participate in client meetings to present recommendations/deliver advice
Track/hold clients accountable to agreed-upon actions
Product Solutions
Assess the client's risk tolerance
Assess the client's goals and time frame
Recommend portfolio/robust product solution that will fit the client's risk tolerance, goals and time frame
Run illustrations and hypotheticals
Execute appropriate trades to align with proposed portfolio

Utilize Asset Allocation analysis to recommend changes

Monitor economy, markets, and world events to determine any required strategic rebalancing
Conduct transactions on behalf of clients
Required Qualifications
Ability to meet with clients and present planning strategies
Ability to source prospective clients
High level of interpersonal skills
Initiative in business development
Entrepreneurial perspective and desire to grow the business
Ability to recommend suitable investment products and services
Success at planning and managing resources (time, people, budget) to run optimal practice
Ability to adhere to rules and regulations as required by Iron Birch Advisors and Ameriprise Financial
Job Status:
This job is currently active.